Enter for the Sustainable Community Territory Tidy Towns Awards 2020 Today!
But It's Not as You Know it
Update: 01/11/2020. Entries have now closed.
The Awards will be announced on the 27th November, and can be watched here:
Original Post below:
2020 has been a challenging year for our communities.  We've had to change up our calendar of events (along with every other organisation across the globe).  And like most, we've had to become more digital.
So this year we're going full digital for the awards.  Instead of judges visiting communities, we're asking entrants to submit a video of their community and why they think they should win.  Be creative, transparent, entertaining, but address the judging criteria.
Also, note the change in date to the 27th of November for the Awards this year. More info to follow.
The awards are getting better every year, and the quality of the entrants is always on the rise.  By entering the awards you'll be saying 'yes' to a more sustainable community and a better world. We'll provide you with the tools to improve your community and make lasting difference.
Download the following:
And we're here to help.  Contact the CEO to get action plan templates and advice on how to make changes in your town – ceo@kabcnt.org.au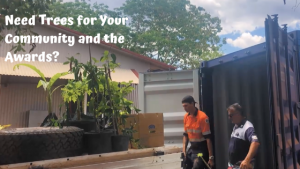 AND…if your community is interested in native trees (bush tucker & bush medicine) plus general fruit or vegie trees to contact CEO (ceo@kabcnt.org.au) to discuss and plan further.
We'd also like to take the opportunity to thank our supporters for our annual awards:
The Hon. Natasha Fyles with support from the Hon. Eva Lawler announced their support for our awards out to 2023.
The Community Benefit Fund has also generously supported our awards for the next three years.