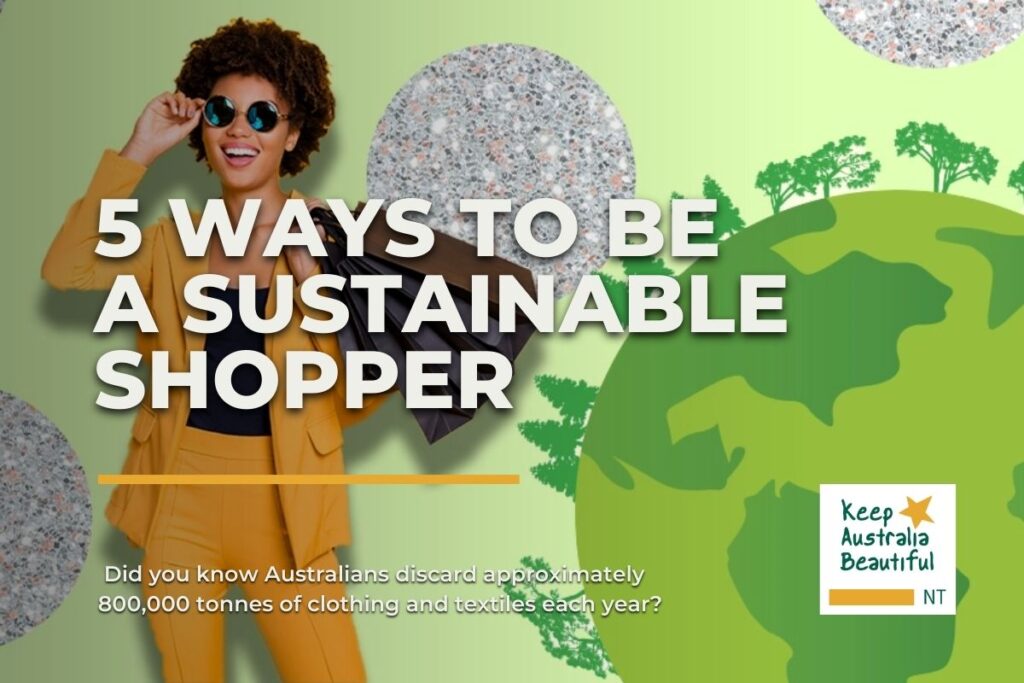 #DYK Australians discard approximately 800,000 tonnes of clothing and textiles each year?
Clothes, footwear and textile waste contribute to water pollution, greenhouse gas emissions and landfill, but if you don't think you have the time or the money to make a difference with your clothing choices, think again.
The idea of creating a sustainable or ethical wardrobe from scratch is, without doubt, a daunting one. There's the prospect of not being able to wear the brands you're used to and limiting your choices in terms of trends, not to mention having to spend a little more than you would normally.
All of these concerns are of course valid, but it isn't as hard as you might think to get started on a sustainable wardrobe – and it's definitely worth it in the long run.
The good news is that it's easy to reduce your environmental impact, so we've mapped out 5 simple ways for you to become a more sustainable shopper.
These small changes can lead to significant environmental change, so don't underestimate the power you have as a shopper in keeping Australia sustainable and of course, beautiful!
1. Consider the 30 Wears Challenge
Livia Firth, the founder of Eco Age (a company that certifies brands for their sustainability) began the #30Wears campaign to encourage us to only buy an item if we really know that we'll wear it.
She told us: "The biggest message is every time you buy something, always think, 'Will I wear it a minimum of 30 times?' If the answer is yes, then buy it. But you'd be surprised how many times you say no."
Try to veer away from buying that statement piece you know you are only going to wear for one occasion, and instead invest in something with more longevity that you can wear again and again. Pick more versatile pieces that can be styled in different ways, rather than that one item you know is going to fall out of fashion in no time.
2. Shop second-hand
Op shops and second hand markets give pre-loved items a new home. Every new item of clothing made has a substantial carbon footprint attached to its manufacturing, but the amount of new energy needed to produce vintage clothing is zero.
Vintage clothing has a huge role to play in making fashion more sustainable and reducing a global footprint that includes the 132m metric tonnes of coal used yearly through the production of new fibres, dyeing and bleaching of garments and the 6-9 trillion litres of water used by the industry.
3. Invest in trans-seasonal clothes
Opt for pieces that can be worn all year round. Don't shell out on an entire summer wardrobe each year when you live in a cold and rainy place – you won't pass the 30 wears test. Instead, spend the bulk of your money on pieces that will see you through more than one season. Jeans, T-shirts, classic dresses, timeless coats and jackets will make for a much more sustainable wardrobe.
4. Repair small defects
When a t-shirt rips or a heel breaks, you don't necessarily have to throw it away. Learn how to repair your clothes and accessories – or, even easier, pay a professional to do it. Think twice before using it as an excuse for something new.
Being sustainable can be as simple as finding a great tailor you can rely on, rather than throwing things out when they feel worn.
5. Support sustainable brands
Buying from brands that engage in ethical production is a great way of reducing your environmental impact.
For further information please contact
Keep Australia Beautiful Council NT, Chief Executive Officer, Heimo Schober
by phone 0407 186 461 or email to ceo@kabcnt.org.au
#sustainability#fightwaste#environment#ecofriendly#green#keepaustraliabeautiful#sustainableshopping#30wearschallenge
---
Related Articles