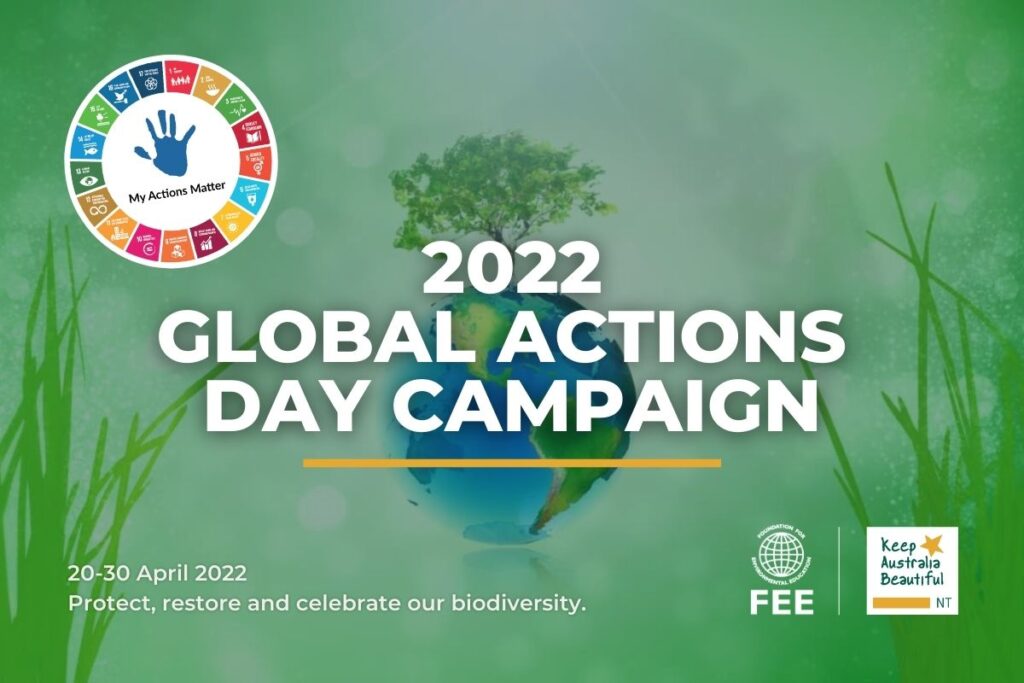 Here at KABC(NT), we believe that no matter how small, we can ALL positively impact our Earth's wellbeing.
We're calling on all Eco-Schools and Territory Businesses to participate in the 2022 Annual Global Action Day Campaign, on the 20th – 30th April 2022. You can participate in small positive actions that will protect and restore global diversity!
Join KABC(NT) on an exciting 10 day journey with actions and steps to connect, observe, learn and celebrate being part of 'Generation Restoration'.
---
What is the campaign?
Since 2015, the Foundation for Environmental Education (FEE) has been coordinating the annual #GlobalActionDays campaign. FEE is the world's largest environmental education organization, active in over 100 countries around the world, including Australia.
This year's edition of the #GlobalActionDays campaign will be focusing on biodiversity and how you can be the #GenerationRestoration! The campaign invites you to participate in small, positive actions (called #handprints) that protect, restore and celebrate our biodiversity.
The #GlobalActionDays campaign will run for 10 days from the 20th – 30th of April 2022.
---
How can we participate?
Teachers, parents, and guardians are encouraged to take part in the activities together with younger children. Most of the actions include an element of reflection or discussion, e.g. in terms of our food habits, consumption patterns, the importance of biodiversity, health, and safety. You can also help young people, especially those with no Internet or social media access, share their actions with wider community. By sharing our actions over social media, we can help inspire and motivate others to take action as well!
1. Register
First and foremost, register for your FREE action resource kit on the FEE website. It's completely free, and takes 2 minutes! This helps us show the global impact of all the positive actions.
Register here: https://www.fee.global/gad-register
2. Choose from 5 Actions or #Handprints
Once you've registered, there are 5 positive #handprint actions that you can do over the 10-day #GlobalActionDays campaign!
Each small action helps protect, restore or celebrate the biodiversity around us! 😊
Some actions you can do in 5 minutes, while others might take a little longer. You are free to choose which activities you would like to do – the more, the better!
Make sure to share all your actions on social media using the hashtags #GlobalActionDays, #MyActionsMatter, #GAIA2030, #GenerationRestoration and #LitterLessCampaign.
The 5 Handprints
Below you'll find 5 actions that you can do over the 10 days from the 20th to 30th of April. You can do as many as you want, and in any order, (though we like the idea of ending #GlobalActionDays with a green party)
Nature Dipping
Nature Detectives
Life in Danger
Labels to Look for
Have a Green Party
Check out examples of each of these 5 actions here.
Below are some social media tiles to help you share your actions. Don't forget to use the hashtags #GlobalActionDays, #MyActionsMatter, #GAIA2030, #GenerationRestoration and #LitterLessCampaign.
Lets be part of the United Nations Decade on Ecosystem Restoration, which is a global rallying cry to heal our planet – what will you restore?
---
Resources for Teachers
Discover this year's biodiversity actions in this document containing help notes for teachers and educators.
---
Activity Guide for Children
Discover this playful activity guide for parents/caregivers and young children aged 3 to 6 year old.
---
Further Reading:
Related Articles