Wallace Rockhole – Best Small Community Award Winner 2019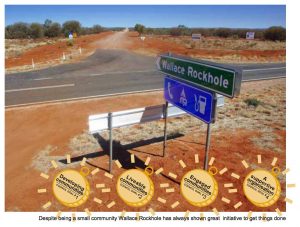 In 2019 Wallace Rockhole won the Best Small Community Award in our Sustainable Communities Territory Tidy Towns 2019.  It was a great effort by the community to win the award.
Wallace Rockhole is a Tidy Towns 4 Gold Star rated community and has maintained their 4 Gold Star rating for some 5 years now.
WALLACE ROCKHOLE SCHOOL is Highly Commendable – Well integrated programs to support health, well-being and environmental education across the curriculum that are reinforced through the school garden, recycling  and general operations.
Wallace Rockhole Highly Commendable very well maintained with a good range of healthy options and community household requirements, well integrated with Arts Centre and other business needs such as Caravan Park and camping facilities which provide community income.
BEST SMALL COMMUNITY – WALLACE ROCKHOLE – This community is consistently of high standards and displays continuous improvement of all aspects of community life and overall well-being and sustainability, it has strong leadership and an extremely proud community culture, well deserved award.
The community of Wallace Rockhole is located some 120 km from Alice Springs in the Western MacDonnell Ranges. It is a small beautiful, immaculate and proud Regional Community,  that provides key services to a number of families and Cattle Station within their region.
This small community stands with immense pride,  encouraging all passing tourists to visit, to see and learn about their piece of paradise and their proud culture.
Grass roots commitment by the community people has inspired improved community aesthetics, shared learning and celebration of their Indigenous culture through tourism, introduction of enterprise initiatives, including visitors camping park and BBQ areas for all to share.
We congratulate the residents of Wallace Rockhole on their continued efforts and commitment which is proving to be very positive and beneficial.
Don't forget to register your community for the 2020 Territory Sustainable Community Awards (formerly Territory Tidy Towns). Click here to enter.