Congratulations Nightcliff Primary School On Their Green Flag Eco-School Accreditation
Nightcliff Primary School has become the Northern Territory's first ever Internationally recognised Green Flag accredited sustainable school.  We're absolutely thrilled to have our first Territory Green Flag.
"Thanks to their commitment in sustainability, the school has passed with flying colours and has shone in all areas of sustainability, from recycling, to reducing waste, composting and educating the wider community," Mr Schober said."
In the words of the Green Flag Assessor,
"Nightcliff Primary School is firmly committed to the concept of being an Eco-School and strives for continuous improvement in all areas of sustainability. The students, staff, parents, and community all demonstrated strong support for the school's endeavours to be a good model environmental citizen……They are most worthy recipients and should be proud of their achievements."
And from Nightcliff Primary School themselves, the Assistant Principle Jillian Finch,
A whole school approach to environmental sustainability is embedded in Nightcliff Primary's culture and programs. Ensuring student voice through student leadership and the Eco Warrior program is vital for current and future success. We were proud to receive the Eco Schools Green Flag Award from the Minister for Environment Hon. Eva Lawler today at the KAB Leaders for the Future Q&A."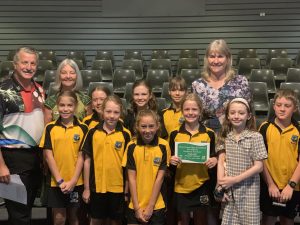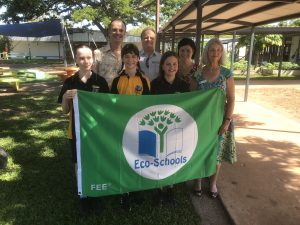 To become Green Flag Accredited you have to be pretty good. Here's a list of the criteria and here. 
And thanks to the Hon. Eva Lawler and Hon. Natasha Fyles for presenting Nightcliff Primary School with their accreditation.
If you're interested in knowing more about how your school can become an Eco-School and support a sustainable community, then please email our CEO at ceo@kabcnt.org.au.