Eco-Schools Information Sessions
Keep Australia Beautiful Council NT holds Eco-Schools Information sessions aimed at Schools/Teachers and Local Government.
The short session is designed to explain the program in more detail and to answer any questions you may have about it.
If any teacher wishes to teach their students about the issues of litter, waste and sustainability, KABC NT will arrange 1-hour registered Professional Development session for the teachers, as well as Eco-Schools Info Session and Free Eco-Schools Accreditation Session.
KABC NT is also available to provide FREE Eco School info and accreditation sessions to any school, parent, council and students. By registering into Eco-Schools Programme, schools can receive accreditation – under the United Nations.
Please register your interest by sending an email to ceo@kabcnt.org.au or calling Heimo on 0407 186 461.
We will be running a number of Eco School sessions in the upcoming months in NT. We are arranging a Teacher's Information Presentation Session on Sustainable Eco-Schools on Wednesday, 25th September 2019; 3:30 pm – 4:30 pm in Katherine and Region Schools.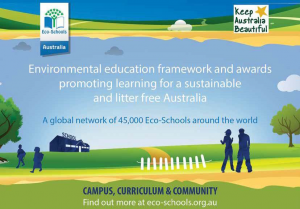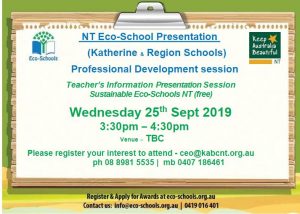 Heimo will be in Alice Springs during the first week of December 2019. So if you would like to participate in a Eco-Schools session in Alice Springs, please send an email to us.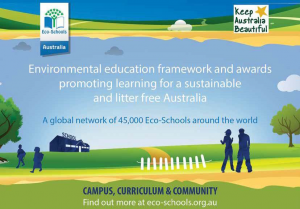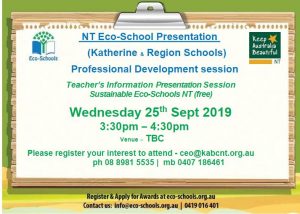 More About Eco-Schools
Eco-Schools is a growing phenomenon, which encourages young people to engage in their environment by allowing them the opportunity to actively protect it.
It starts in the classroom, it expands to the school and eventually fosters change in the community at large. Through this programme, young people experience a sense of achievement at being able to have a say in the environmental management policies of their schools, ultimately steering them towards certification and the prestige which comes with being awarded a Green Flag.
The Eco-Schools programme is an ideal way for schools to embark on a meaningful path towards improving the environment in both the school and the local community while at the same time having a life-long positive impact on the lives of young people, their families, school staff and local authorities.
To learn more, click here : http://www.eco-schools.org.au/
To learn more about the benefits of the Eco-Schools Programme to schools, students and communities, please click here.