MEDIA RELEASE: 27 August 2021
Keep Australia Beautiful Council NT are encouraging Territorians to be bushfire aware this year and to act responsibly, bin their spent fireworks cartridges and associated litter appropriately after Territory Day fireworks celebrations.
Bang it, and then bin it!
That's the advice from Keep Australia Beautiful NT, for Territorians and our visitors this Territory Day.
With Territory Day celebrations scheduled for Sunday, we will all need to approach our 'banging celebrations' with great care and responsibility.
We know it's been more than two years since our last cracker night celebrations so remember to be safe and responsible when handling fireworks, particularly for Top Enders this year with the very real dry season extreme bushfire risk.
Due to this year's Territory Day postponement and now being held later into the Top End dry season with more flammable, intense and severe bushfire conditions, we all need to be extra vigilant and extremely aware of the serious potential bushfire risks crackers can cause.
No one wants hospitalisations, grassfires, the loss of lives or property through Territory Day celebrations. We all need to take full ownership and responsibility for our actions and behaviour and help minimise the risk of grass and bushfires, minimise the risk of injury to innocent bystanders, minimise the risk to property and importantly minimise the risk to our Territory Firefighters and Emergency Services personnel.
A misfire into a crowd or bush is all it takes to spoil or mar our Territory day celebrations privilege.
"We want Territorians to appropriately bin their firework litter after Territory Day fireworks on Sunday night," said Heimo Schober, CEO of Keep Australia Beautiful NT.
"This includes drink and food containers as well as spent fireworks cartridges and other associated litter.
"Every year, Councils and community volunteers clean up tonnes of litter.
"This year, let's all work together to do the right thing, be responsible, be respectful and put all your litter in the bin.
According to the Keep Australia Beautiful National Litter Index reports, the Northern Territory has had five consecutive years where our litter count has increased.
At the moment, we are Australia's dirtiest and most littered region, per capita.
"Be responsible, be bushfire aware, respect country, and dispose of our Territory Day litter."
"Please don't leave your litter in the parks, on the streets or on the beach for the tides to wash out into our oceans."
Top tips to avoid a cracker of a litter problem:
Be bushfire conscious, please act responsibly.
After the firework has cooled, appropriately dispose of it in a bin.
Wear gloves when picking up firework litter or use rubbish pick-up tongs.
Although fireworks can't be recycled, most of the bulk packaging can be.
Follow the instructions on each firework and be safe.
Keep unspent fireworks in a closed box.
Always supervise children around fireworks.
Be safety conscious and protect bystanders.
Keep pets indoors.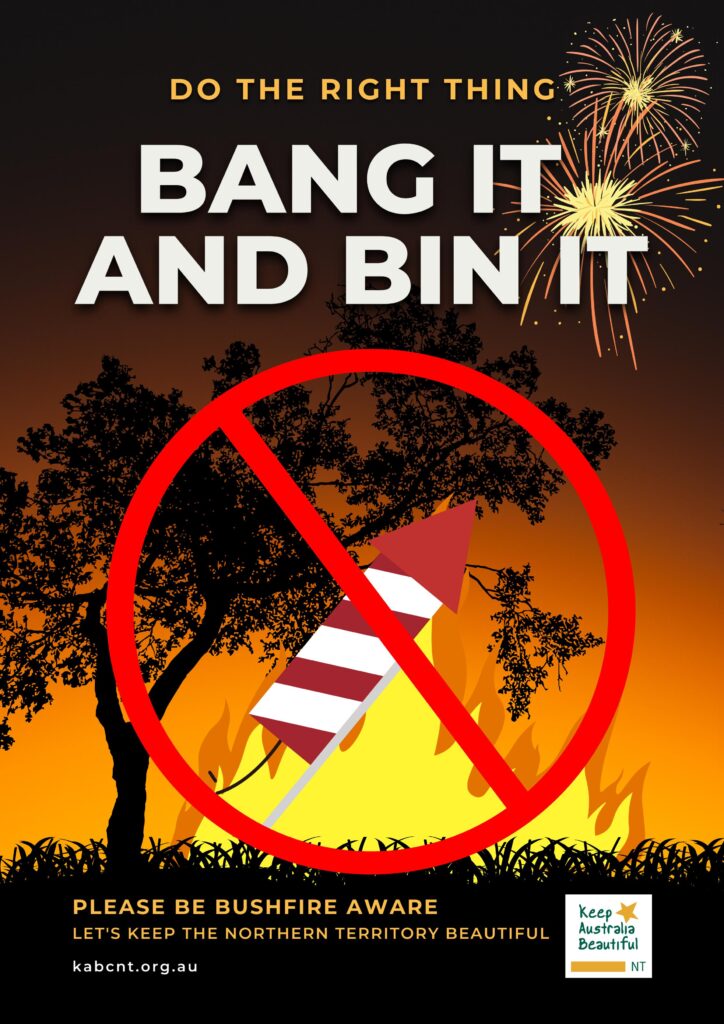 For further information please contact
Heimo Schober, Keep Australia Beautiful Council NT, Chief Executive Officer
P: 0407 186 461 or
E: ceo@kabcnt.org.au
About Keep Australia Beautiful Council (NT)
Keep Australia Beautiful Council NT is the Northern Territory's peak body on litter prevention. With more than four decades of experience in engaging Territorians to care for their local environments, (not to be confused with Clean Up Australia Day) KABC(NT) Programs include Territory Tidy Towns, National Litter Index, Eco-Schools, Sustainable Cities, Clean Beaches, and Keep Australia Beautiful Week in August.
The KABCNT website is www.kabcnt.org.au where all information on the organisation can be accessed including membership, Eco-School program and the National Litter Index, which is Australia's only independent nation-wide litter research.
---
June 2021:
Keep Australia Beautiful is pleading and urging all Territorians to be responsible and bin their 'Territory Day' fireworks litter (spent fireworks cartridges, food and drinks containers, rubbish, etc) after Territory Day fireworks in July 2021.
Territory Day Firework litter left discarded on beaches, in our parks and on roadways is unsightly and poses a danger and risk to people, pets, wildlife and the environment (land, sea and air). Every year Councils respond and act quickly deploying personnel and clean-up crews picking up rubbish and spent firework cartridges irresponsibly left behind from the night before.
Keep Australia Beautiful urges all Territorians to Do The Right Thing and bin all rubbish. 'Bin it after you Bang it' is the campaign for this year in an effort to reduce the negative fallout and impact from Territory Day events. Be responsible, respect country, and dispose of our Territory Day litter thoughtfully.
Territory Day commemorations and Fireworks is about celebrating all good things Territorian and having fun, but once the fireworks have been safely exploded and cooled, it's just a matter of disposing them responsibly and appropriately.
Top Tips to avoid a cracker of a litter problem:
After the firework has cooled, dispose of it in a bin (preferably with dosed in water).

Use 'rubbish pick-up tongs' or wear gloves when picking up firework litter.

Although firework cartridges can't be recycled, most of their outer packaging could be recycled.

Keep fireworks in a closed box.

Always supervise children around fireworks.

Keep pets indoors.
We'd also like to say a very special and sincere "THANK YOU" to the increasing numbers of Territory volunteers picking up littered rubbish from our beaches and parks the day after Territory Day – you are all a beautiful quiet army of achievers, its such a unselfish selfless act that shows so much good will. It is with great pride that I notice this particular group of volunteers increasing in numbers every year – keep up the great work.
Keep Australia Beautiful Council Northern Territory
Keep Northern Territory Beautiful