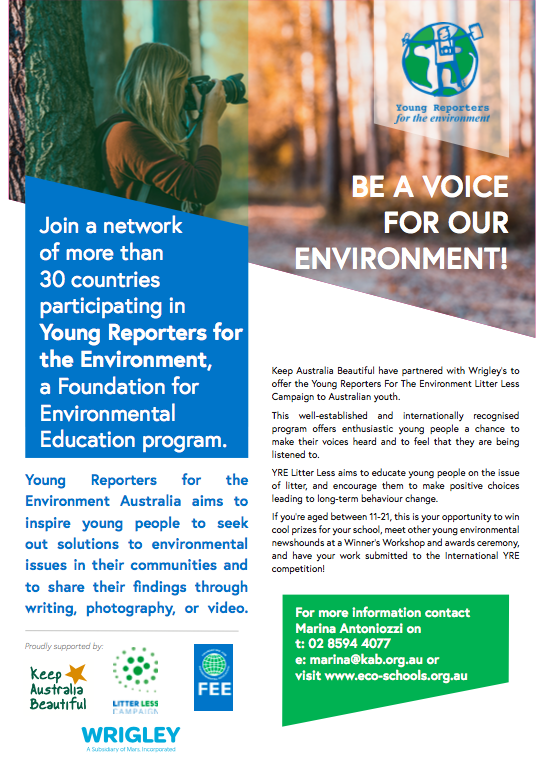 Thank-you for your interest in Young Reporters for the Environment Australia Litter Less Campaign (YRE), funded by the Wrigley Company Foundation.
In 2017, Keep Australia Beautiful launched Young Reporters for the Environment and we are looking forward to you joining us on our second year's exciting adventure! To help get you started we are offering 12 Aussie schools seed grants of $500 to reduce litter and affect positive behaviour change in your school.
How Does it Work?
Students pick an environmental topic relating to litter, investigate it, and then report on it using one of three categories: Writing, Photography or Film
Students organise a 'Community Action Day' where they raise awareness of an environmental litter issue to the whole school and/or wider community
Students are then invited to submit their assignments to the YRE competition for a chance to win fantastic prizes and the opportunity to attend a 'winners workshop' and award ceremony
Australian winners and runners-up for each category may be entered in the 2019 YRE competition.
If your school is selected to participate in YRE 2018 you agree to:
Learn about YRE through a short online education program (format to be confirmed)
Monitor the impact you have on litter in school throughout the campaign
Organise a community event promoting your YRE project
Comply with 2018 program timeline (dates to be confirmed):

EOI closes (tbc)
Deadline for student submissions (tbc)
Community Action Day completed (tbc)
Winners Workshop and Awards Ceremony in Term 4
Submit 3 pictures and a short summary of your campaign
Be willing to participate in a student survey on litter or similar impact monitoring activity
To be in consideration for a LLC grant return completed form via email. Applicants will be advised of their success via email.