We will be running a number of Eco School sessions in the upcoming months in NT.
The sessions are free and are aimed at helping teachers explore the resources available for Eco Schools. Any teacher, senior teachers and those interested in school sustainability project can join.
Please register your interest by sending an email to ceo@kabcnt.org.au or calling Heimo on 0407 186 461.
We are arranging a Teacher's Information Presentation Session on Sustainable Eco-Schools on Wednesday, 25th September 2019; 3:30 pm – 4:30 pm in Katherine and Region Schools.
Heimo will be in Alice Springs during the first week of December 2019. So if you would like to participate in a Eco-Schools session in Alice Springs, please send an email to us.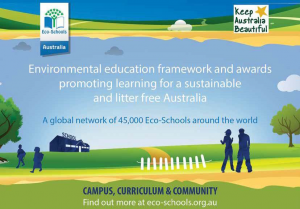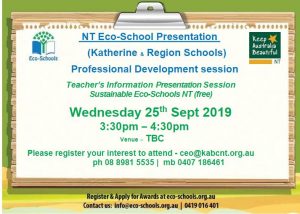 Eco-Schools is an international initiative designed to encourage whole-school action on sustainable development issues. The programme is designed to help make every school sustainable and to bring about behaviour change in students, staff and their families. To know about the benefits of the Eco-schools programme, please click here.