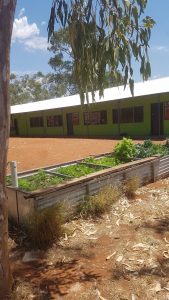 Congratulations on Hermansburg (NTAIA) on winning the following Awards for the 2018 National Territory Tidy Towns program:
Litter Management
Community Participation
HERMANNSBURG (NTAIA) is located approximately 130Km west of Alice Springs and commenced its beginnings back in 1877.
It now boasts a population of nearly 700  residents.
Hermannsburg's settlement is based at the remote foothills of the Western MacDonnell Ranges in Central Australia and has a history that includes pioneering Lutheran Missionaries, with early 'fruit & vegetable farming' plus 'sheep and cattle' agriculture efforts.
Hermannsburg mission and land were handed over to the traditional owners back in 1982 and planning works have commenced on their historical precinct to stimulate tourism.
Hermannsburg is being recognised for their efforts over the last few years and this Commendation is given in appreciation for community's continued Litter Management actions and again in the hope of maintaining that achievement and momentum to encourage a renewed community drive towards continuous improvement into 2019 and into the future.
Congratulations Hermannsburg!