The 2019 Senior's Beautiful Gardens Competition winners will be announce on the 26th of August. Stay tuned on Facebook, or wait for next month's email with the winners.
Thanks to the participants so far for your submission. We are honored to offer you such a great competition. It is so exciting to see how beautiful gardens our seniors have developed in the Top End. We also appreciate the contribution of PROBUS, COTA and Allora Gardens Nursery for supporting us.
As part of our commitment to keeping the NT looking beautiful tidy, we look forward to continuing this competition in the future.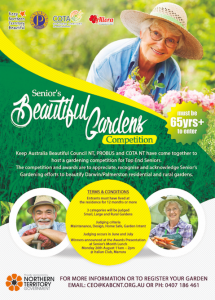 Wondering how the gardens will be judged?  Take a look at a snapshot o the draft judging form to see how the gardens will be assessed below.
For the full document, CLICK HERE TO DOWNLOAD.