We are very proud to announce the 2019 Senior's Beautiful Gardens Competition!
As part of our commitment to keeping the NT looking beautiful tidy, we have also teamed up with PROBUS, COTA and Allora Gardens Nursery to bring you a competition designed to encourage and celebrate beautiful gardens that our Seniors have created in the Top End.
So if you're interested in gardening and you enjoy getting your hands dirty, then this competition is for you!
To enter your garden or to find out more information, contact Heimo on ceo@kabcnt.org.au.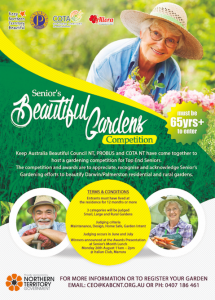 Wondering how the gardens will be judged?  Take a look at a snapshot o the draft judging form to see how the gardens will be assessed below.
For the full document, CLICK HERE TO DOWNLOAD.